Safety Rules & Attire
Please review these very important safety rules with your child.

No one is allowed in the gym without an instructor. All children in the waiting or viewing areas must be supervised by an adult.
Students are allowed to enter the building a maximum of 10 minutes before class is scheduled to begin.
No food, gum, or drinks (other than water) are allowed in the gym.
Personal items should be left in our lobby cubbies. Jewelry should not be worn during classes. PLEASE LEAVE JEWELRY ARTICLES AND OTHER VALUABLES AT HOME. Prairie staff will not be responsible for ANY items that may be lost or stolen. Be sure your student's personal items are marked with their name.
Glasses must be securely fastened.
Hair must be pulled neatly and securely away from the face so that it stays up for the entire class. Children should not wear bows or other hair ornaments as they may cause discomfort during activity.
Please arrive a few minutes before your class time so you are ready for warm-ups. Proper warm-up exercises add to both the safety and success of every gymnastics activity.
Please make every effort to be on time at pick up and inform us if you know you will be late. Instruct your child to wait inside the building until you arrive. You should escort your child from the building to your car. During peak times, the parking lot is crowded. Please take into consideration that our students may include young children. Drive slowly and carefully. Do not take a chance on your child running to and from your car.
Our balcony is open for observation during all classes. Please NO FLASH PHOTOGRAPHY for the safety of our students.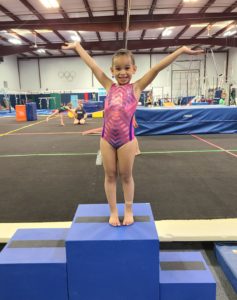 Attire
Girls – Gymnastics leotards are preferred. There is a great selection of leotards available for purchase in our lobby. No sports bras worn alone, no tights that cover the feet, and no skirts or leotards with skirts attached.
Boys – Shorts or sweatpants with an elastic waistband, and a t-shirt (tucked in).
Footwear – Bare feet or gymnastics slippers.
Everyone – No oversized or loose fitting clothing. No jeans, buckles, buttons, snaps, zippers, etc.