Illinois Men's State Championships 2022
Click HERE to pre-order your meet apparel! 
HOST HOTELS: 
2423 Bushwood Dr.
Aurora, IL 60506
(630) 907-2600
Group Name: Illinois Boys Championships
2424 W. Sullivan Rd.
Aurora, IL 60506
(630) 806-7400
Group Name: Gymnastics State Championships
Admissions
:
Adults:  $20.00
Children under 12:  $15.00
Seniors 60+:  $15.00
The Vaughan Athletic Center offers 225,000 square feet of athletic, fitness and aquatic fun.
Fitness Center
Aquatic Center
Tennis Center
Field House
Indoor Tracks
Indoor Playhouse
Child Care
Snacks Café
Visit their website to view hours and amenity availability.
Parking Information:
Parking at the Vaughan Athletic Center is free of charge but may be limited during peak hours.
Overflow parking is available one block west of the Vaughan Athletic Center at 2302 W. Indian Trail Rd, Aurora. Free shuttle service is available from the overflow parking lot to the Vaughan Athletic Center.
If you make use of the overflow parking, we highly recommend dropping your gymnast off at the main entrance first to avoid being late for open stretch.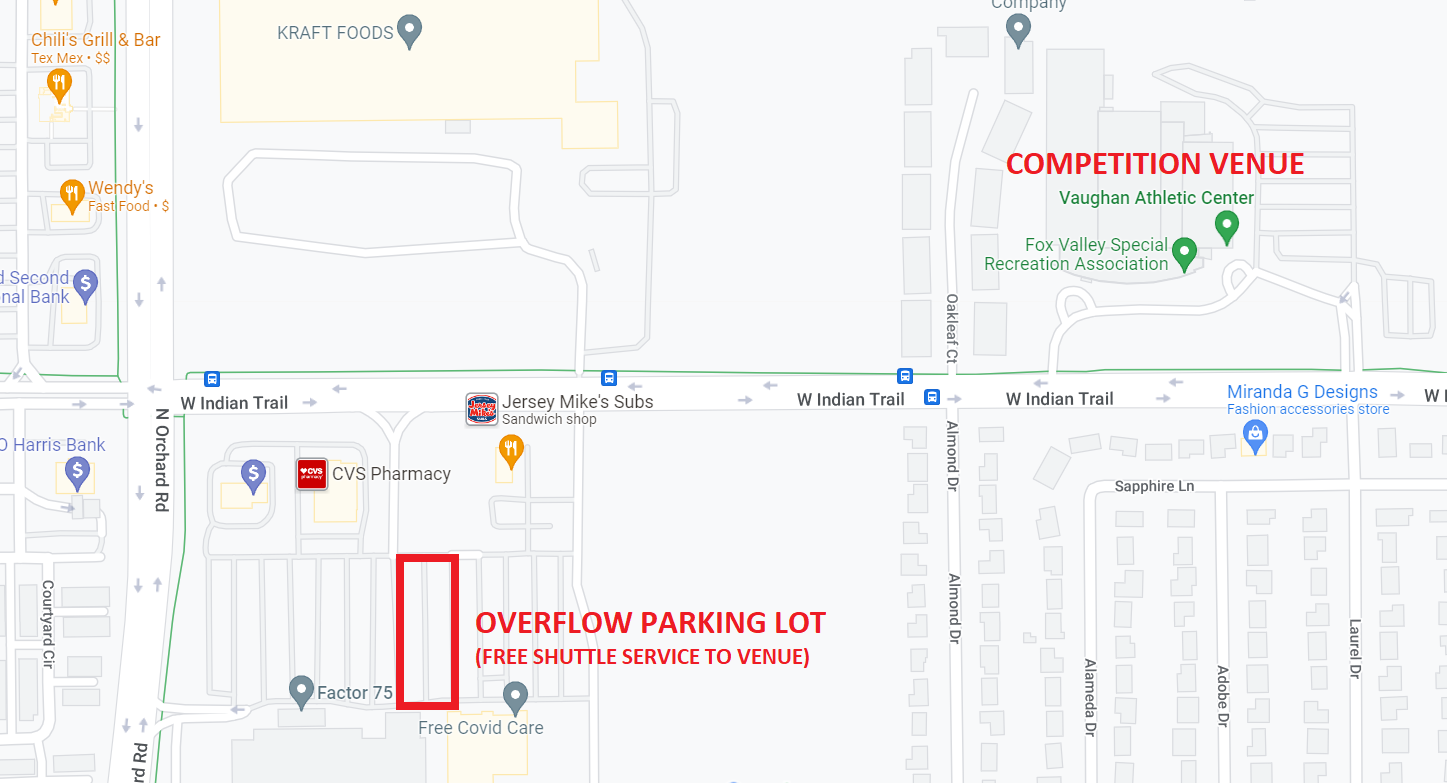 2121 W. Indian Trail, Aurora, IL 60506
Face masks are strongly recommended but not required.
There are no limits on spectators.
Illinois State Championships will comply with all state and local COVID-19 guidelines in place at the time of the meet.
USA Gymnastics currently has the following guidelines in place for hosting meets:
Responsibility to Comply with Local Government Guidelines:
USA Gymnastics understands and respects the want and the need to return to competition. However, as a community we must remain vigilant in our responsibility to ensuring that all participants at USA Gymnastics sanctioned events are experiencing the safest environment possible.
Here are a few reminders of the applicable rules for hosting an event:
Meet directors and clubs are allowed to host sanctioned events (live or virtual), only if the event can be conducted in a manner that is permitted by, and in compliance with, their local government guidelines.
It is the responsibility of the Meet Director to be informed and to stay aware of their local ordinances.
Meet directors MUST be prepared to alter sanctioned event plans should local guidance change.
Meet Directors Have the Authority:
Meet directors have the authority to enforce and require measures that will provide participants a safe event environment. Specifically, meet directors have the authority to:
remove and/or disqualify any participants, clubs, coaches, athletes, judges, other sanctioned event staff and spectators who fail or refuse to comply with local ordinances, such as non-compliance of facial covering and/or social distancing mandates.
eliminate and/or reduce the number of spectators in order to maintain the appropriate social distancing protocol. Meet directors are expected to communicate all restrictions clearly to all parents/guardians and are encouraged to seek creative solutions for parental viewing to comply with Safe Sport requirements such as: allowing one person from each club to live stream their athletes on a private club page and/or live streaming the entire event using a third-party vendor.
require the use of a facial covering and social distancing protocols throughout the duration of a USA Gymnastics Sanctioned event, even in the absence of such mandates in the state or local area. Meet Directors should clearly communicate the required facial covering and social distancing protocols in both pre-event and on-site communication. USA Gymnastics recommends and highly encourages to the use of facial coverings.