COVID-19 Updates
WE ARE OPEN!
UPDATE 1/11/21: Group lessons for children ages 2 and up will resume in February!
TO REGISTER:
VISIT THE CUSTOMER PORTAL AND SELECT BOOKING > FIND A CLASS
IF THE CLASS TIME YOU ARE INTERESTED IN IS FULL, PLEASE ADD YOUR CHILD TO THE WAIT LIST AND WE'LL CONTACT YOU WHEN THERE IS AN OPENING.
---
UPDATE 11/20/20: Prairie Gymnastics Club has suspended all group gymnastics classes and practices in response to the new Tier 3 mitigations. Beginning Monday, November 30th, we will be offering one-on-one private gymnastics and tumbling lessons for children ages 3.5 and up!
Pricing:
30 minutes – $35.00

1 hour – $50.00
VISIT THE CUSTOMER PORTAL, SELECT BOOKING > PRIVATE LESSONS TO REGISTER YOUR CHILD.
---
Now registering for our classes for kids ages 2 and up who love being active and making new friends. Prairie Gymnastics Club is dedicated to providing a safe place where your kids can get moving in fun and engaging classes led by our certified coaches!
We've added all new classes to our schedule for kids who want to get out of the house for fun physical activity with their friends in a safe, socially distanced setting! Classes are scheduled during times when the gym is l
ess crowded to insure they have plenty of space. 
Girls 1/Boys 1 – Tuesdays at 3:00pm – classes for the beginner gymnast. Classes are 1 hour 20 min (1st grade and up)

Homeschool PE (Co-Ed) – Wednesdays at 3:00pm – classes will include games, fun exercises, and gymnastics! Classes are 1 hour (1st grade and up)

AM Preschool gymnastics classes are also available!
---
UPDATE – 6/24/20
CLASSES FOR KIDS AGES 3.5 AND UP WILL BEGIN ON JULY 1ST. NOW ENROLLING!
*Parent & Tot classes for ages 2-3.5 will resume at a later date. We are still working on making modifications to the class to keep everyone safe so please check back for updates!
---
Summer 2020 Schedule – Phase 3
PRESCHOOL CLASSES WILL RESUME IN PHASE 4
---
May 28, 2020
THE GYM WILL BE OPENING FOR THE FOLLOWING GROUPS IN PHASE 3: 
TEAM: MONDAY, JUNE 1ST
RECREATIONAL (1ST GRADE AND UP): MONDAY, JUNE 8TH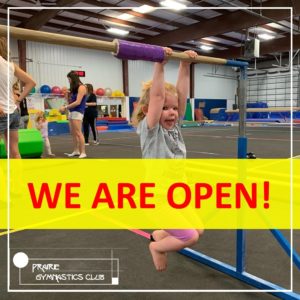 Current customers may register for classes beginning on Friday, May 29th at 9:00am.
Registration will open for all customers on Monday, June 1st at 9:00am.
Summer 2020 Schedule – Phase 3
Please visit the Parent Portal to begin registration.
PRESCHOOL CLASSES WILL RESUME IN PHASE 4
---
May 26, 2020
HAVE YOU HEARD THE NEWS?
WE HAVE BEEN INCLUDED IN PHASE 3 AND WILL BE OPENING THE GYM SOON! 
We received the exciting news on Sunday afternoon that we are going to be able to open in Phase 3! We're still working out the details to make sure we are in full compliance with the guidelines we received but as of right now, we plan to slowly resume team practices on June 1st and recreational classes on June 8th. Click here to view our most up to date policies and procedures for reopening.
Once our schedule is finalized, we will send out notification via e-mail that we are accepting enrollments. The first 3 days of enrollment will be reserved for currently enrolled customers. After that, enrollment will open for everyone.
Team & Pre-Team customers will receive a separate schedule and will not need to re-enroll.
As always, please let us know if you have any questions or concerns. We are excited to get back into the gym and cannot wait to see you next week!
Darion & Jillian Knight
Prairie Gymnastics Club
---
May 21, 2020
Dear Prairie Families,
On March 16th, Prairie Gymnastics Club made the difficult decision to close the gym and help slow the spread of COVID-19. As we move closer to Phase 3 of the Governor's Restore Illinois plan, we want to update you on our plans for reopening when it is safe to do so. When Prairie is given the all clear to reopen, we will notify current customers by e-mail when a start date is determined and provide instructions for enrollment at that time. Our website and Facebook page will be regularly updated as well.
We remain committed to protecting our Prairie families and employees and have created policies and procedures that will help prevent the spread of COVID-19. Click to view our Policies & Procedures. This situation is fluid so we will continue to adjust our policies and procedures in accordance with CDC and IDPH recommendations.
We are planning a slow and phased reopening of the gym. Upon reopening, we will need to restructure our class schedule to remain in compliance with capacity limits. When that occurs, currently enrolled preschool/recreational customers will need to re-enroll when the updated schedule is finalized. Team families will be notified of their child's new schedule as soon as it is available and will not need to re-enroll. No automatic payments will be processed until proper notice has been given.
If you have any questions or concerns, please contact us at (630) 406-6803 or by e-mail at info@prairiegym.com. As we start on the road to recovery, we are so thankful for those who are going to stick this out with us. Thank you for your patience and support during this difficult time.
All the best to you and your loved ones,
Darion & Jillian Knight, Owners